Thursday, September 19, 2019 - Sunday, September 22, 2019
EXPO CHICAGO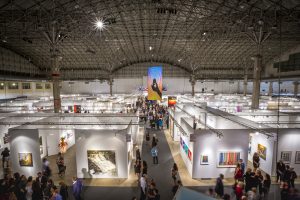 EXPO CHICAGO has established the city of Chicago as a preeminent art fair destination, opening the fall art season every September at historic Navy Pier. Now entering its eighth edition, EXPO CHICAGO presents artwork from over 3,000 artists from 135 leading galleries representing 25 countries and 68 international cities. The exposition offers a dynamic roster of programming including panel discussions, uniquely curated site-specific projects, cutting-edge film and new media work, curator-led tours, and special exhibitions by renowned institutions.
EXPO CHICAGO welcomes you to experience the best in contemporary art.
Tickets + Information
www.expochicago.com/ticketing
Vernissage
Thursday, September 19 | 6:00–9:00pm
A benefit for the Museum of Contemporary Art Chicago, presented by the MCA Women's Board.
General Admission
Friday, September 20 | 11:00am–7:00pm
Saturday, September 21 | 11:00am–7:00pm
Sunday, September 22 | 11:00am–6:00pm
September in Chicago. Be here.
@expochicago | #expochicago
Getting Here & Parking
Planning to attend this event? Getting to Navy Pier has never been easier. Learn more about our convenient transportation and parking options.