Friday, April 20, 2018 - Tuesday, April 23, 2019
Chakaia Booker: Four Sculptures
Since 1994 Chakaia Booker has made abstract sculptures from discarded rubber tires salvaged from city streets, auto body shops, and dump sites. Cutting, shredding, bending, and transforming them into wild organic shapes, she creates objects that evoke the human body and spirit, without being literal representations.  Today, she works almost exclusively with recycled tires—slicing, twisting, stripping, weaving, and riveting rubber and radials to create and exaggerate the textures, prickled edges, and torqued forms of her radical refashioning. Whether she is creating small-scale wall reliefs resembling ballistic blowouts, suggestively hairy and ovoid pedestal sculptures, or colossal landscape-like tableaux, Booker transforms tires—iconic symbols of urban waste and blight—into extraordinary compositions of renewal.
Booker received a B.A. in sociology from Rutgers University in 1976, and an M.F.A. from the City College of New York in 1993. She gained international acclaim at the 2000 Whitney Biennial with It's So Hard to Be Green (2000), her 12.5 x 21 foot wall-hung tire sculpture. Booker received the Pollock-Krasner Grant in 2002 and a Guggenheim Fellowship in 2005. She has exhibited in group and solo exhibitions nationally and internationally.
Six sculptures by Booker have been on view in Millennium Park since 2016; four of those works will come to Navy Pier this April (two sited on Illinois Street just outside the entrance of Navy Pier; one on the south dock at the entrance; and one in Pier Park).
Pass the Buck
2008; Rubber tires and stainless steel, 102 x 96 x 84 inches
Booker's inspiration for this sculpture was Madam C. J. Walker–best known for developing a successful line of hair-care and beauty products for black women–and considered by many to be the first African American businesswoman and philanthropist. For the artist, this sculpture evokes the pursuit of success and giving back to society.
Take Out
2008
Take Out is a whimsical piece embellished with large, looping, swirling tendrils of tire. Evoking photographs and reflections through its frame- or mirror-like rectangular shape, Take Out invites viewers to explore and engage in the Chicago cityscape and alternately, views of the Centennial Wheel in Pier Park.
Shape Shifter
2012; Rubber tires and stainless steel, 192 x 102 x 78 inches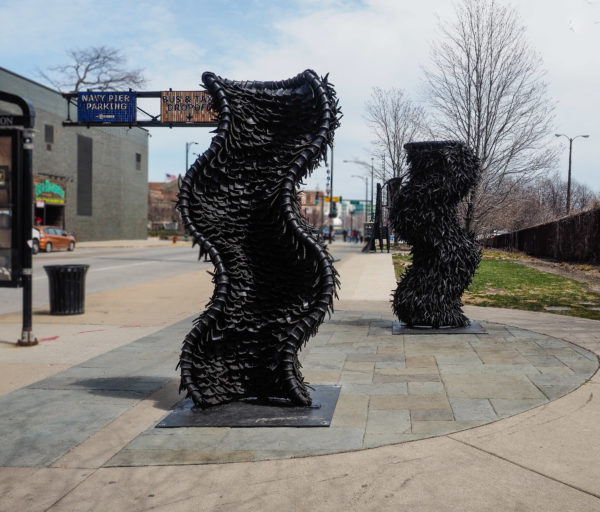 Gridlock
2008; Rubber tire and stainless steel, 2 pieces, 100 x 48 x 20 inches
Gridlock represents a symbol of human journey and life—shows an interplay of concave and convex spaces. The title references travel patterns in cities.
"My work challenges the notion that tires are uniformly black. I want to encourage people to examine assumptions about color, patterns, textures, and functions…. Also, our assumptions about most subject matter, including people, their diversity, and the diversity of ideas and perceptions." – Chakaia Booker
Getting Here & Parking
Planning to attend this event? Getting to Navy Pier has never been easier. Learn more about our convenient transportation and parking options.