Piertastic Tuesdays Continue Through Fall
This summer, Navy Pier launched the first-ever Piertastic Tuesday discount program, which is a Pier-wide program open to all guests. Guests enjoyed deals and discounts from the Pier and its on-site partners in attractions, dining, entertainment and retail each Tuesday throughout the summer.
We have more great news for you: Piertastic Tuesday is continuing this fall so guests can continue to discover great deals each week at the Pier.
Check out a few of the offers available below and please visit here to view the full list of detailed offers for Piertastic Tuesday. Visit Navy Pier on Tuesday soon to enjoy this fantastic day!
Enjoy a Cruise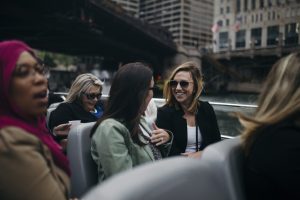 • Odyssey, Mystic Blue and Spirit of Chicago: ½ bottles of wine
• Seadog Ventures: 10 a.m. lakefront speedboat ride with 50% off tickets for children (available on a first come, first serve basis)
• Shoreline Sightseeing: $22 of two tour specials (both Architecture Tour and Classic Lake Tour)
• Tall Ship Windy: 2 for 1 children's tickets
Experience Virtual Reality
• Virtual Rush Chicago: Three VR ride tickets for $20
Twist and Turn in the Amazing Chicago Funhouse Maze
• Buy 1 Get 1 Value passes available
---
GET SOCIAL
Use #PiertasticTuesday to show us how you're celebrating on the Pier and for a chance to get featured on our channels!