Discover Pier Park
The weather is still mild and a great way to enjoy a beautiful Chicago day is at Pier Park! Take in the fall foliage, have a blast on rides and get a close-up view of the amazing Pier Pumpkin Lights displays (up through November 2). Check out our inside look at Pier Park below so you'll be an expert during your next visit to the Pier.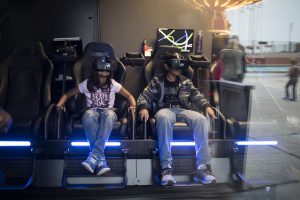 Pier Park Attractions
Centennial Wheel (open year-round, weather permitting): Navy Pier's Wheel is an iconic part of the Chicago skyline and a treasured piece of Chicago's cultural history. Soaring to heights of nearly 200 feet, the Wheel offers visitors unparalleled, 360-degree views of Chicago and Lake Michigan. No matter the season, the enclosed gondolas provide a comfortable experience and amazing city views.
Pepsi Wave Swinger (open late spring through early fall, now open): Soar through the air on this fun and exciting swing ride!
 Carousel (open late spring through early fall, now open): Navy Pier's whimsical carousel is 36 feet in diameter and features 34 animals and 2 chariots for a classic experience.
Climbing Walls (open late spring through early fall): Grab hold of the ropes and challenge yourself to climb to the top of these new interactive climbing walls.
 Light Tower (open late spring through early fall): A thrill for all ages, for a price of $9, ride both the Light Tower and Carousel in Pier Park for a wonderful deal!
Remote Control Boats (open late spring through early fall): Located at the base of the Pepsi Wave Swinger, navigate and maneuver one of eight token-operated, remote control boats through the waters.
Virtual Rush: Chicago: This groundbreaking 4D VR adventure offers riders a thrilling virtual voyage over and through a futuristic Chicago city-scape, immersing them in the action.
Play the Park Pass
Guests can purchase a Play the Park Pass at the Pier Park Box Office to explore every corner of Pier Park and fill their visit with multiple attractions (pending ride status)! Each pass includes:
Weather & Other Helpful Tips
For the safety of guests and staff, the Centennial Wheel and other attractions may occasionally close due to weather conditions, such as lightning, wind and extreme cold. To check on the status of Pier Park rides and attractions on the day of your visit, please call 312-595-PIER.
---
GET SOCIAL
We'd love to see your favorite photos from Pier Park! Share them with #NavyPier for a chance to get featured on our channels: Instagram, Facebook and Twitter.