Top 10 Instagrammable Selfie Spots on the Pier
In case you missed it, Friday, June 21, 2019 was #NationalSelfieDay. June 21, 2014 was a momentous day in social media history when DJ Rick McNeely founded National Selfie Day. Five years later, here are the top 10 selfie worthy spots at Navy Pier to help you celebrate this festive social media holiday!
1. Aboard the Centennial Wheel
One of the most iconic places to take pictures on the Pier is on the Centennial Wheel, featuring 42 climate-controlled, enclosed gondolas. The Wheel provides guests a chance to ascend 200 feet into the air and offers unparalleled 360-degree views of Chicago and Lake Michigan to take your selfie game to new heights. Instagram – Credit: @heidizeigerphotography
2. Enter a Sweet Paradise at It'Sugar
It'Sugar, the largest specialty candy retailer in the world, is a colorful candy wonderland with a location at Navy Pier that is perfect for any eye catching selfie. Grab a rainbow lollipop or a giant box of your favorite candy and pose behind this sweet background, but try not to get temped on the way out!
3. Take a Cruise on the Odyssey
The Pier's first-class dining cruise ship Odyssey is one of the best places for a selfie. With panoramic views of the Chicago skyline, you too can achieve that perfect windblown hair look for your picture. Instagram – Credit: @nadinee._
4. Escape into a Tropical Paradise at Crystal Gardens
A popular venue for countless weddings, events and celebrations, Crystal Gardens is a one-acre indoor botanical garden with a 50-foot arched ceiling, over 80 palm trees, hanging twinkle lights and dancing leapfrog fountains that give the space a tropical feel. A unique aspect of a Crystal Gardens selfie is that the dancing leapfrog fountains spray water across the room to give you an interactive, engaging photo. Instagram – Credit: @elizabethurbik
5. Explore West Garage
The skyline has a certain je ne sais quoi when you're on the top floors of the West Garage. Don't just let us convince you, see for yourself! Instagram – Credit: @devindeangelis
6. Offshore Rooftop & Bar
The largest rooftop venue in the nation, Offshore, is right at home at Navy Pier! This 36,000 square foot venue will let you take picturesque selfies with Lake Michigan and the Chicago skyline in the background. Raise a toast at the Pier's newest luxury rooftop bar and restaurant to celebrate living life to the fullest and always trying to see your Beachfire Margarita or Cruise Control cocktail half full. For more information, please visit Offshore. Instagram – Credit: @emma__vel
7. North and South of Pier Park
8. City and Lake Stages (Polk Bros Park Performance Lawns)
The Lake Stage and City Stage at Polk Bros Park are great places to snap a pic with the serene blue waters of Lake Michigan contrasting with the bright grass to highlight Chicago's vibrant nature. On these lush performance lawns, your selfies have never looked better.
9. Wave Wall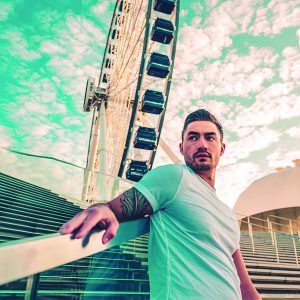 Aerodynamically designed to be pleasing to the eye, the Wave Wall has contouring lines and angles to give you an interesting selfie that will get people commenting on your Gram. The Wave Wall is where the Pier hosts Wave Wall Wax, a free live DJ series on Saturday afternoons open to the public all summer long. Instagram – Credit: @maxwbender
10. East End of the Pier
The end of the Pier is a prime photogenic spot for selfies and pictures, a known secret among regulars. From this unique vantage point your selfies will show water, the sky, the city and the Pier from a whole new perspective.
National Selfie Day is a holiday that is meant to be celebrated by all. Capture your best angles on the Pier and post them with #NavyPier and #NationalSelfieDay. Bring your friends, your family and even your pets, and celebrate with us Navy Pier style!
---
GET SOCIAL
To get your selfie featured on our social media channels post it with #NavyPier.
Follow us on Instagram, Facebook and Twitter.